In Search of a Mystical Mate


Books offer a whole genre of medium for art once one overcomes the unwritten but strongly felt rule, to cut and alter the book from its original purpose. This is a representation of the many facets of coupling and how they might look arising from a book explaining how relationships work.
CULTURAL INNOCULATION
This old 19th century dictionary reminds one of the importance of communication and the words that comprise it. There were many volumes of this dictionary, this being only one of many. As we are born and grow, we take in (literally) these words, their meanings, and they define our experience. This piece attempts to portray the universal experience of humanity and the input of knowledge.
BLACK & WHITE THINKING
Using a book as the frame, this piece portrays visually the stances of the cognitive distortion known as Black and White Thinking causing many communication and relationship woes.
BUTTERFLY CAROUSEL
Magically the rainbow arcs of butterflies glow on a reflective background all neatly arranged on an open book.
PURPLE HAZE
The book provides the land for the butterflies to burst forth….onto the scene of northern California held in place by a wooden frame (the back of this frame being more interesting than the front!). A wall hanging to marvel at.
TIMED FIELD
Daises and butterflies rejoice and flutter in a vast field.. …all popping out of a bound up book. With time always in our rear view mirror, it is placed front stage in a classic Dali style.
BOOKED TABLE
A journey of discovery of how to use books as useable furniture is shown in this piece. Piano parts help make this piece both elegant and functional. An Edison wax cylinder container is provided to hold reading glasses.
GREY MATTERS
What the world needs more is grey sweet grey, that's the only thing that there is just too little of. Grey attitudinal thinking creates connection and good communication. Let's harvest more of it.
NESTLED IN OLD NARRATIVES
Mounted folded book with a local bird's nest provides a simple but powerful feast for the eye.
BUTTERFLY BOUQUET
Rainbow butterflies leap out of a bound book creating a simple but elegant design.
EARLY BLOOMER
A book to fold for container, a book to roll into blowers and a book to make green twigs form a pleasing shape that gives one flowers all year round.
TANGLED UP BLUES
A striking frame with butterflies galore over the book as they pop out here and there.
LATE BLOOMER
A classy little year round bouquet atop a stainless steel French fry holder topped off with blue marbles for contrast.
SPRING BOUQUET
A folded book provides a chic vase for a bright arrangements of folded flowers with green twigs for a design contrast.
Book Mobiles
Book mobiles are 3 dimensional cards for any occasion: birthday, thank you, get well. Using the book as the backdrop we can see different shapes and greetings arising from it.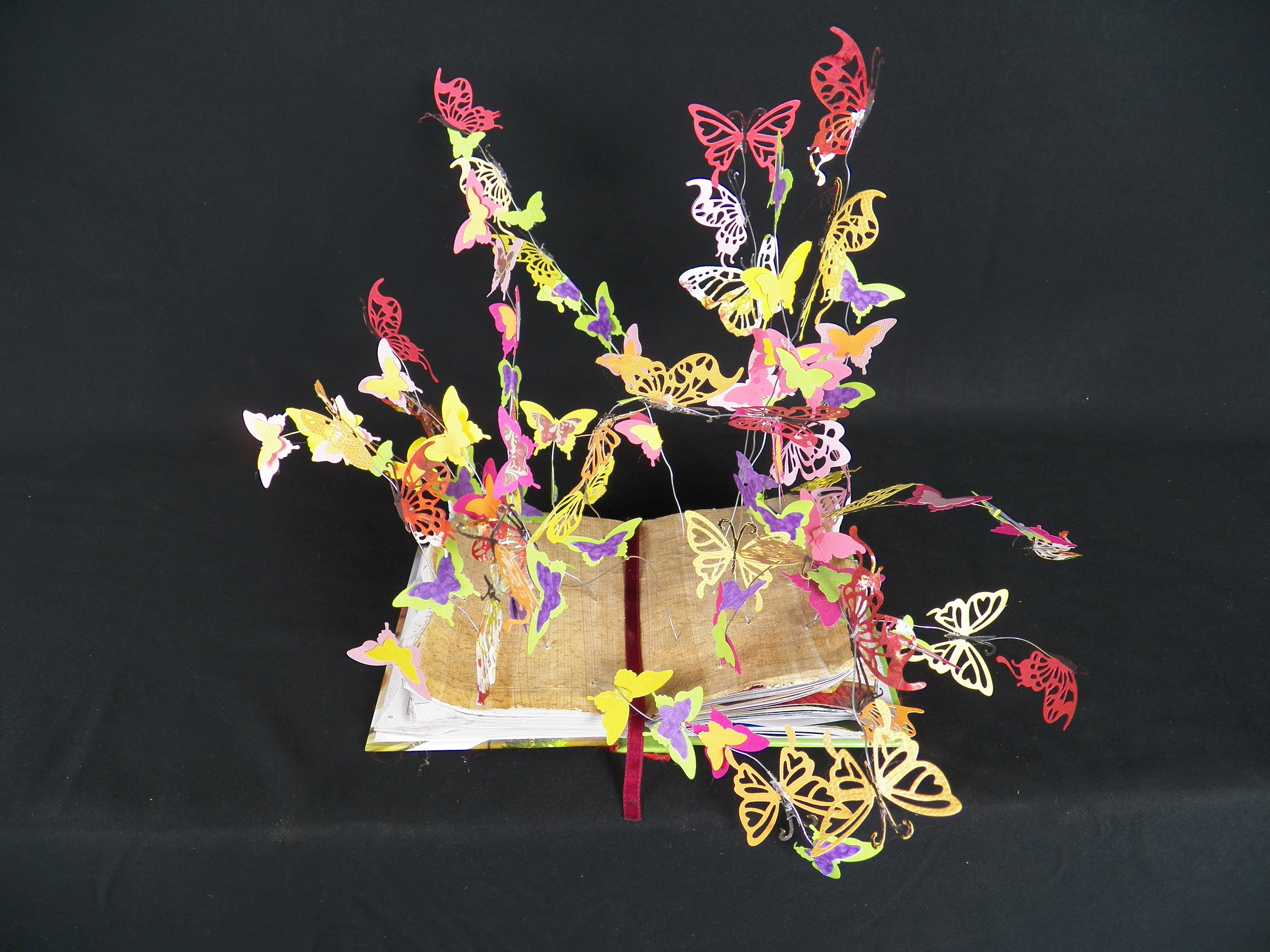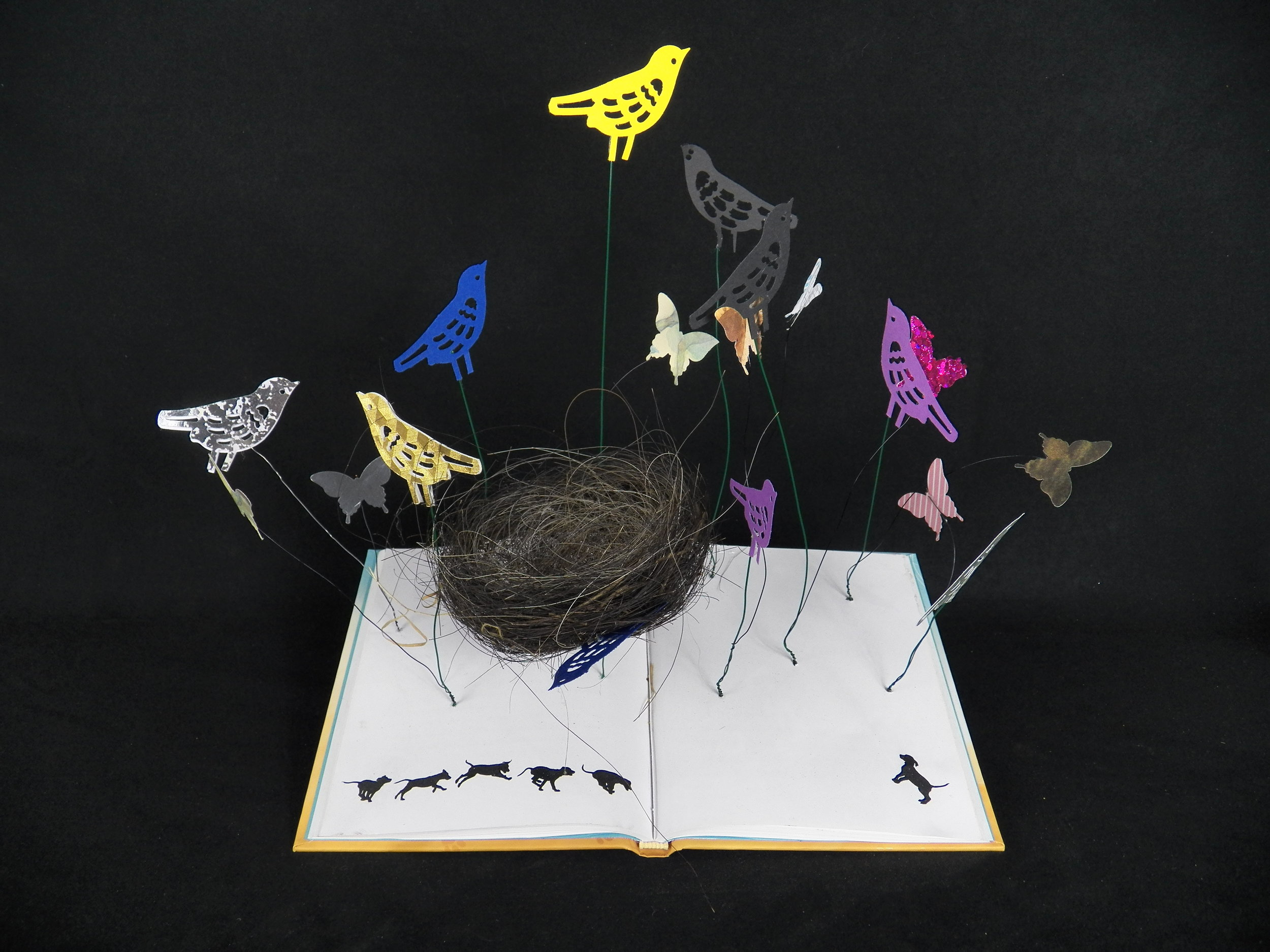 TAKING SOME R & R
can you turn the second picture over? Paper sculptured person sits atop of their comfy floor enjoying the favorite pastime. Barbie hands and feet help finish the piece off. Ah, the beautiful of old marbled paper sets the background off.
Write Me Up
This was an exercise in learning about the many qualities of paper. Using the pages of the book itself and a picture of a pencil, a scape of pencil types stand up to be counted, each with a headdress.