SCULPTURES IN LIGHT
Herein lies INSTRUMENTS OF DESIGN who have found a new purpose; lighting the way -
note by note, song by song, WATT BY WATT.
TUBISSIMO
It would be rare, I suppose, that many counties have a sheriff more appreciated and loved than we have. It would be even rarer that he or she would also play the tube in an oompapa band. In appreciation for all the good things Sheriff Tom has done for our county, our citizens, Tubissimo was created to help him light his way. Hopefully through many difficult days and decisions, he can look up from his desk and see this 'pocket tuba' and remember there is another side to his life that ecompasses music and making people happy.
A PICTURE IS WORTH A 1000 WORDS
Most writings over the last 120 years in books, scripts, movies, memoirs, letters, business notes, legal wranglings and statements were created on a typewriter. The end results of each authors typewritten letter, script or post were visual companions in our mind's eye. What would it be like if we could actually type out the image in our minds, sans words. Now that would be quite the machine!
SPEED! ACTION!
In all film locations right before the director calls out of action, we hear Speed, Action! All is quiet, the machines are rolling and the acting/action takes place. On this vintage Hollywood tripod and 1930's hand crank working film projector the scene is set for someone to walk into the dark room and call out Speed! Action! and let there be light.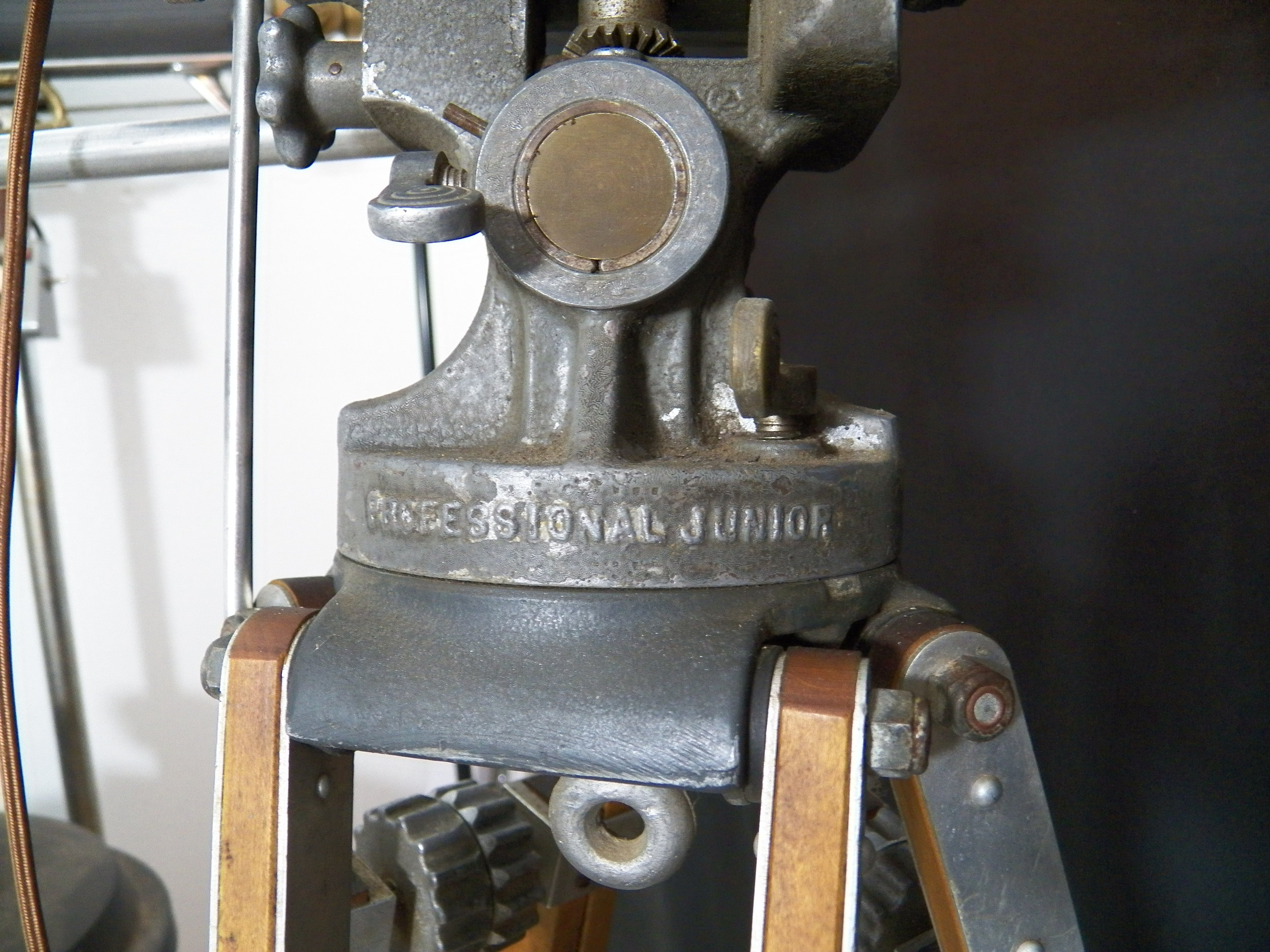 Part of the Musical Light Series, Grappelli's Lamp is in honor of the great French violinist Stephane Grappelli. As he warmed the hearts of music lovers everywhere with his fluid music, this lamp honors the great master.
CHARLIE"S LIGHT
Charlie Parker was a hero, an innovator when few were willing to 'step out' into the 'outside' realms of jazz. This vintage sax reminded me of him, so while listening to him and Bird play this piece came to light. Actually the stand was the coolest part of the entire work - fluid, metallic while soft. Just cool forms.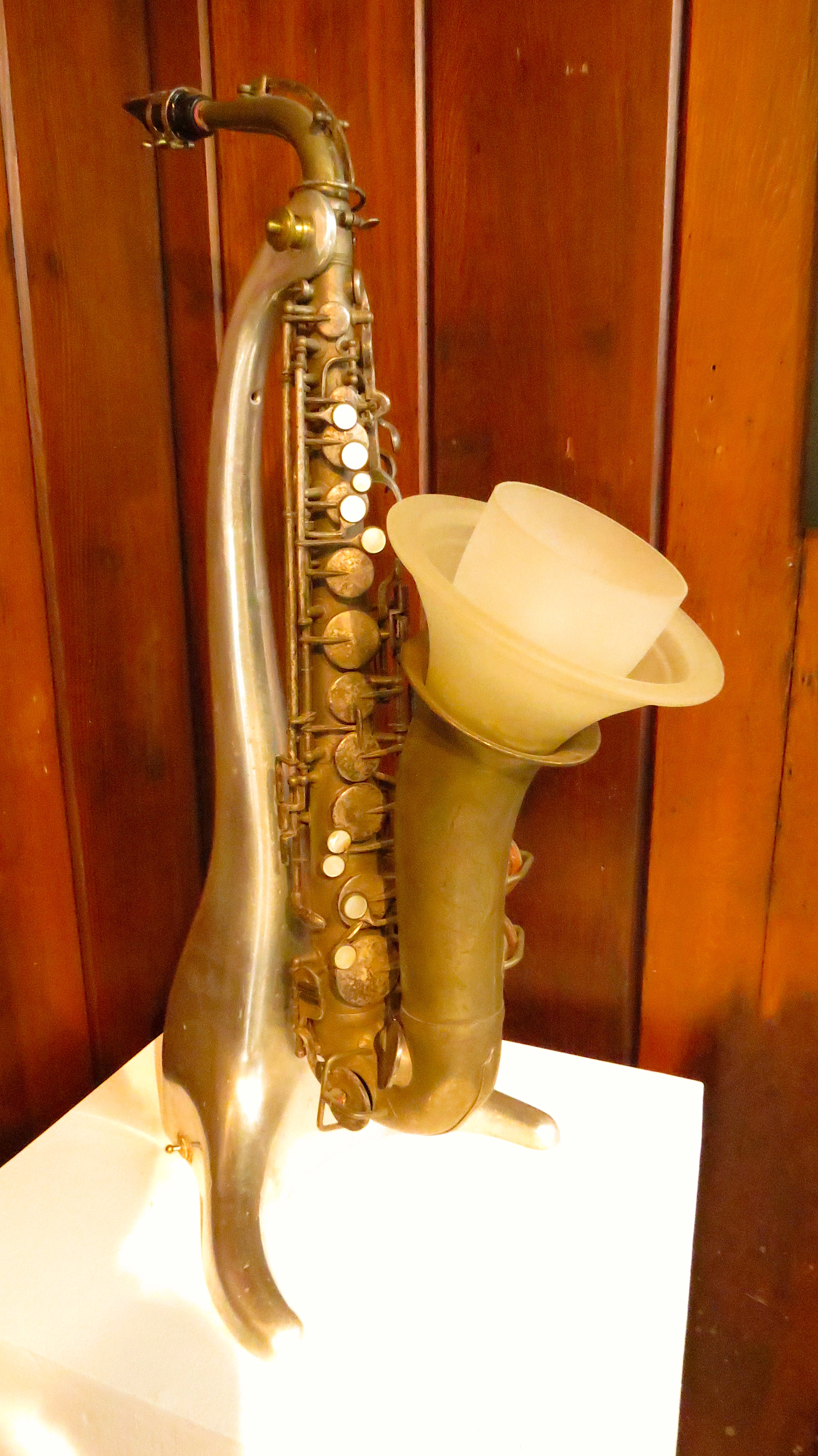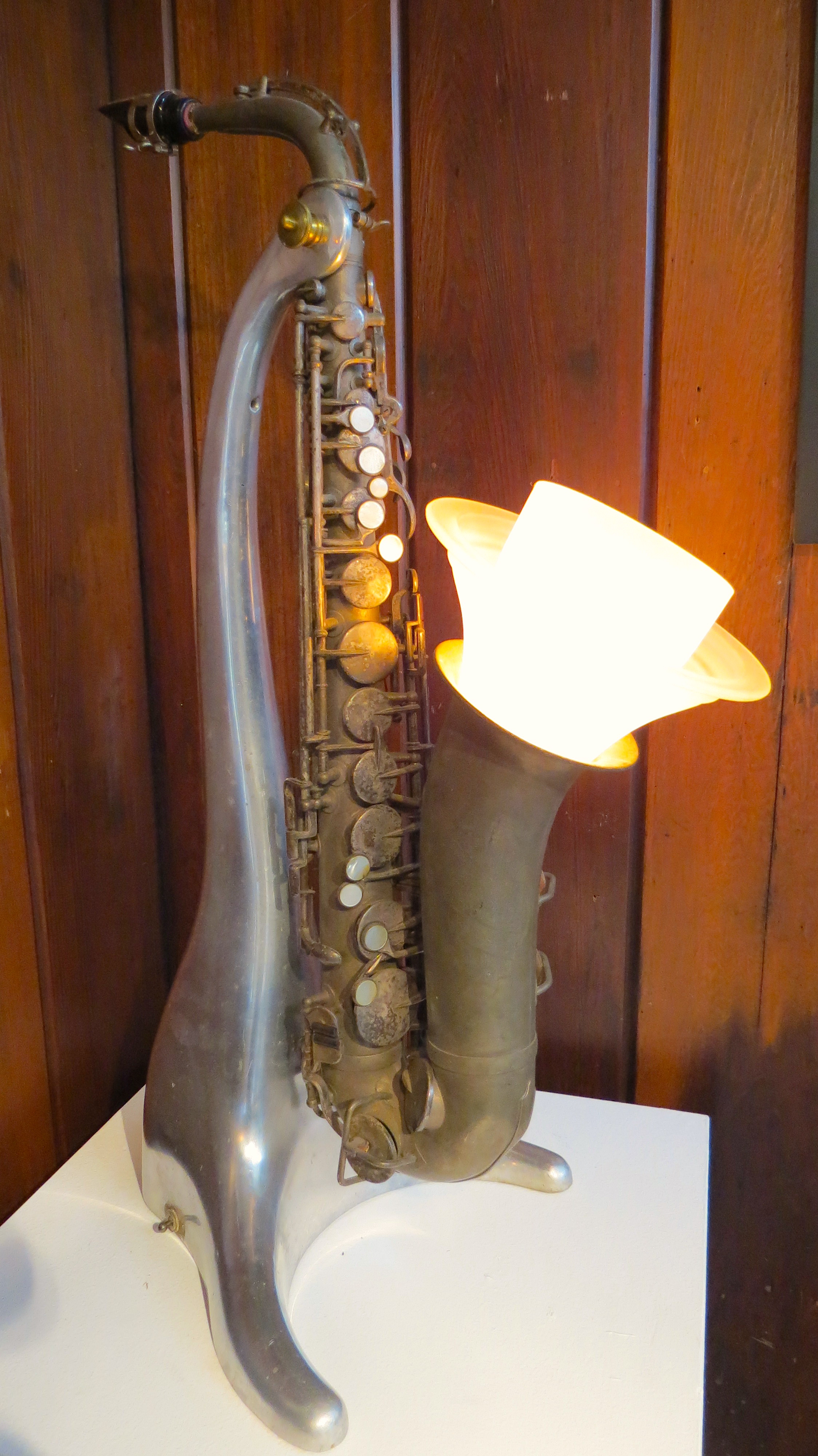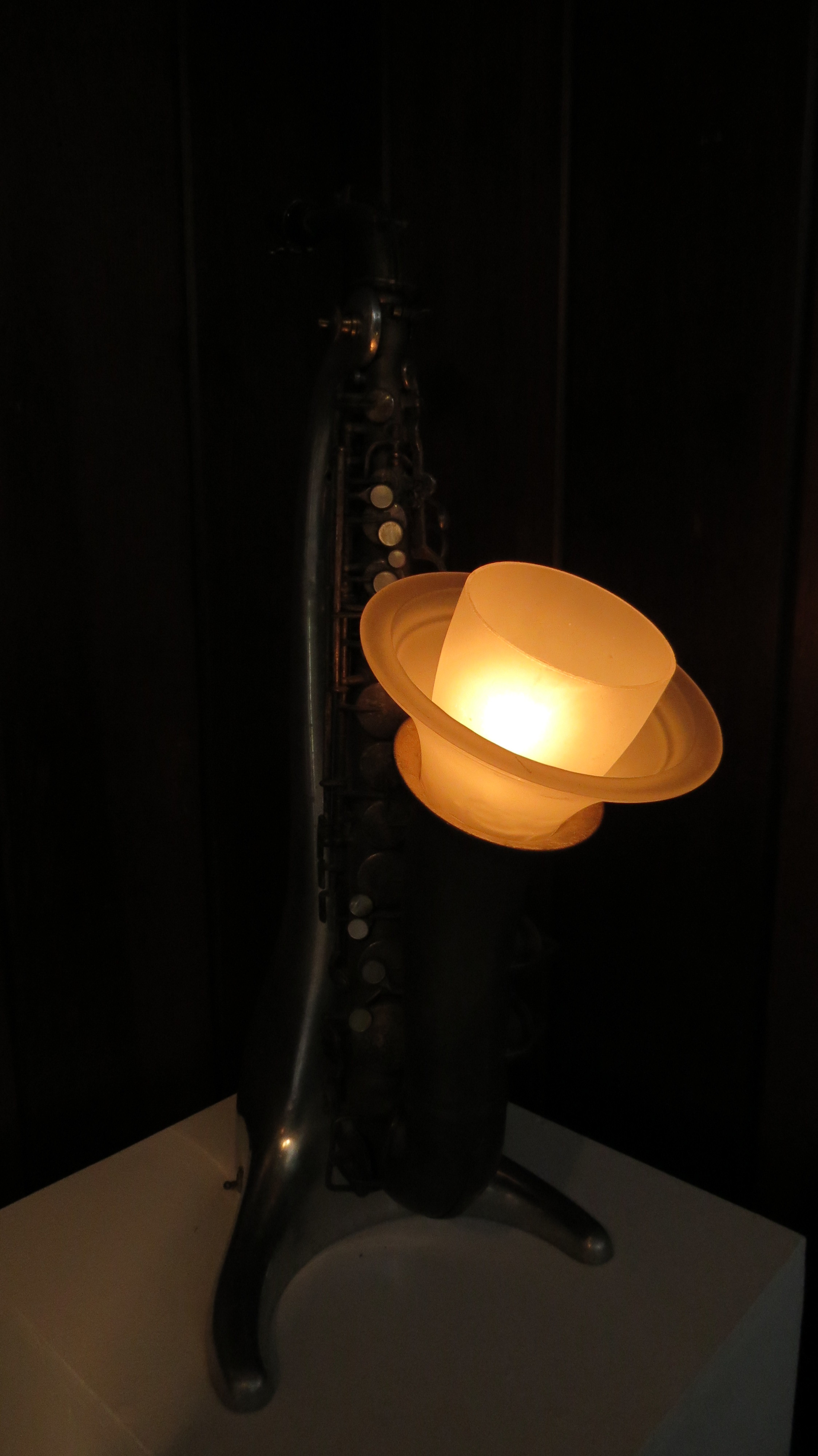 FILM REEL
I always had hallucinations that I would work in the film industry, on set as a grip, sound recorder, film composer (did that some) or a Assistant Producer. As close as I came (music and as a stand in), never did I 'see' the light of the harsh glow of Hollywood. This sculpture embodies the beauty and fantasy for me of what that life could have been with a wiff of elegance and nostalgia.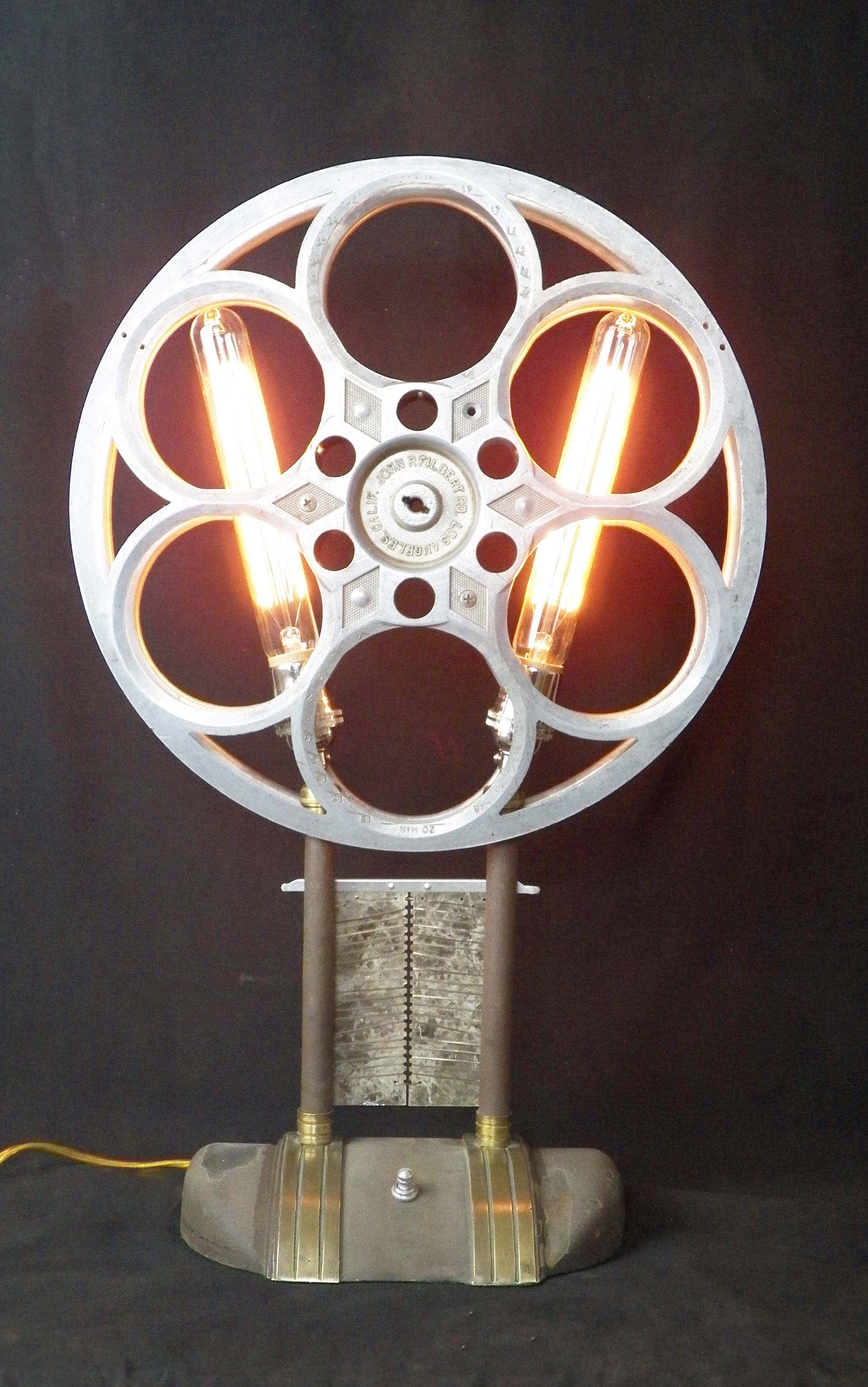 Part of the Musical Light series, French Luminesque imparts the beauty and elegance of the French Horn with a Tiffany Light to create a warm melodic glow. The base is old growth heart redwood and holds down the bass as the light plays the room.
KEYSTONE FILM LITE
Keystone projectors were the rave in the 30-50's in homes and small halls everywhere. The old hand crank pieces were simple yet brought hi tech into people's lives never before seen. Magic they were, fantasy and smiles emanating form all who watched one. Add a vintage 1930's circus top as a lamp shade, repair the mechanism and viola...magic once again happens!
Busby's Lamp
Busby Berkeley would have invariably loved this lamp above his desk or entryway. The beauty and amazing glow of the burled wood sings out from another era as the Edison light bulb lights way for flappers and dandy's alike as they glided their way into his parlor.
Three Horns
What do three different size trumpets sound like as a trio? Loud & proud as they light one's wayinto the inner sanctum for your music room.
8MM
With fond memories as a child, my father would get all the family rounded up in the living room, set the screen up and the wunderkind machine, 'the projector', in place. He would thread the film, hopefully the first time (at times frustrated and cursing quietly), adjust the lense moving the card table that held the machine to the screen and viola!!! …There we all were on the screen. There was no sound, but we didn't care because we didn't know any better. This was 20th century technology in our living room! We kids would laugh and point at our antics and of course be somewhat embarrassed that we were captured in action or weren't captured enough compared to our siblings. 8mm is in honor of all 1950/1960 families who ushered in a new generation of capturing an era on small, many times fragile machines and breakable 8mm film.
Harmonic conversion
What better way to light your space than a Vintage Art Deco Chandelier complete with a clarinet as it's center. It now proudly lights the way in our local playhouse.
All Keyed Up
Wouldn't an old typewriter and an attached lamp option be the way to go as an accessory? Yeah I thought so as well for all those late night books, editorials, short stories and romantic letters as the kid's slept. This piece ended up in a famous fashion designer's home in Manhattan…..seems right.
All That Jazz
Part of the Musical Light Series, All That Jazz is a testament to jazz which was born in the US. The trumpet is one of original purveyors of jazz, being birthed out of the knowledge of music.
Blow Out That Light
During the Civil War tuba's were too big and cumbersome to carry around from battle to battle as the troops marched forward, this the Saxhorn was invented. I can only imagine what a brass band must have sounded like with this instrument as they 'lit' the way for the next battle. The last saxhorn made was in the 1890's.
Metronome Light
When the beat goes marching on, doesn't a player need light as well to play by?
Sax Light
I always wanted to play the sax, the tenor sax. It sounds great, looks sexy, girls liked it, was easy to carry to gigs. So in honor of this great instrument, I created a tenor sax light illuminating the way when one enters the hall.