BACKSEAT DRIVER
This assemblage sculpture incorporates vintage pieces such as roller skate wheels, iron, porcelain doll head and foot, glass decanter top, candlestick holder, tuba manifold parts and car decals. The true back-seater Donald Duck is shouting out his usual instructions in perfect harmony.
CHEAP THRILLS
A holed piece of flagstone inspired this piece. Out of it grew a fun and crazy ride for these Tim Burton figures down a railroad track.
The Final Analysis
Inspired by Mother Theresa poem, various universal images abound on this 3-d piece representing the road of a life.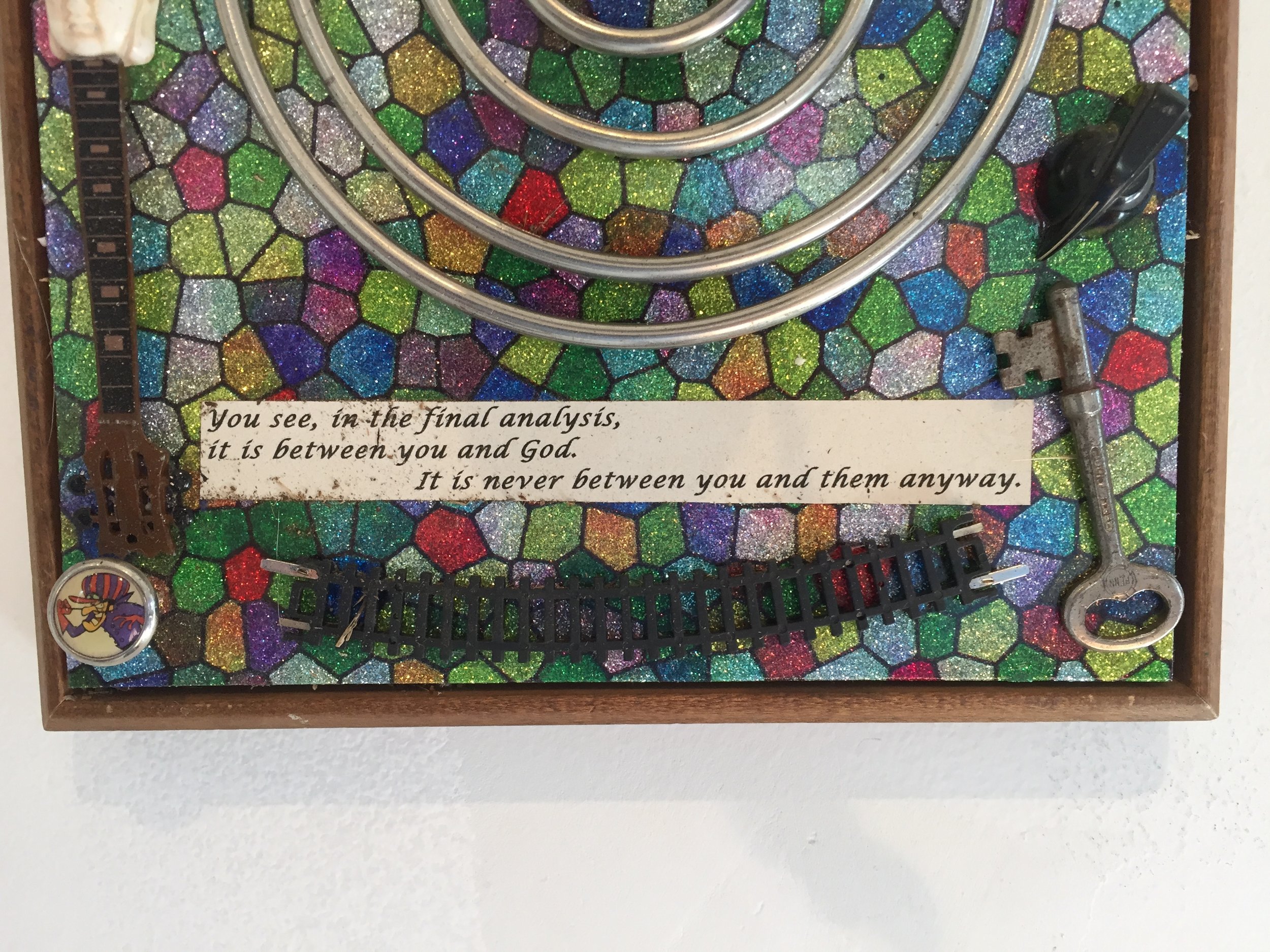 After A Shadow
A space age appearing light comes from restaurant items, saw blades, held together with the world's smallest and strongest magnets. Filter paper and lens are changeable to match one's mood and temperament. It could have been a prop on The Jetsons.
Fire Me Up
This vintage lamp sits pretty in almost any setting. Filters, fire hose extension, unique shaped metal items (whose original purpose is anyone's guess), old Edison bulb, and a sweet tiffany shade.
Across the Tsunami
Born out of an assignment in a 3 dimensional art class and inspired by my grandson's interest in the tsunami artist, this piece lives in the lid of an old 78 record player lid. One of a kind paper that bends and holds its shape created sculptural waves holding the two Chinese bamboo boats
Forgive them Anyway
Mother Teresa's poem inspired this framed piece, the first of many to come taken from her most famous poem on living life. Items are symbolic of forgiveness, making a shift, a change, and the goodness one experiences as it occurs.